Ok, so my body lied to me. You know how I know...I got a darker OPK this morning. It was as almost as dark as the control line and I compared it to my April cycle (b/c I used to same brand then) and it looks just like my CD21 which means tomorrow's should be darker yet, as I got a blazing +++ on CD22 of that cycle. I usually get +++ for about 2 days. I won't call the RE until I am 100% sure this is a positive and not a fluke. So you know what that means....POAS all day long!!!! And try the natural way. Although, due to CM issues, I don't think that will do us much good, but I do have one bottle of Pre.Seed left so hopefully that will do the trick.
On another front. I just need to say what an amazing resource
Stirrup Queens and Sperm Palace Jesters
blog is. So many times I Goo.gled IF related stuffs and I always ended up at her site. Not only does she have a list of just about every IF Diagnosis, treatment, and medication, but she also has a directory of just about every IF Blog out there ~ for every possible situation. The owner of this blog has other blogs and yesterday I came across the
Lost and Found and Connections Abound
blog, thanks to directions from those who have left me comments. It's great. It's like a little summary of the happenings, who's got a Bday, anniversary, who is cycling, getting scans, in the 2ww...ect. It's wonderful and if you have not been there, I strongly suggest checking it out.
I have ferrets. Have I told you guys that? 5 of them to be exact. I am head over heals in love with them.

Here take a look: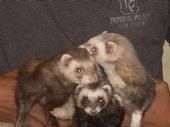 From L to R we have Sonic aka Monkey (he climbs on everything), Mimzy (our only girl) and Crash (he bumps into everything).
This is Yonk-Yonk pka Bianca until we found out SHE was a HE.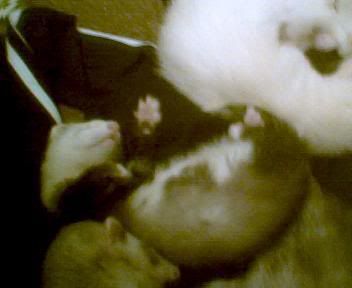 Our newest edition to family is Yoshi he is the one curled upside down.
These are my babies. I can not tell you how much I love them. How watching them run around and play not only lights up my life but that of M and J.